Hithe
Venison tartare, pickled mushrooms, smoked egg yolk, ale crisp
Wine - Alois Lageder, Pinot Noir 'Krafuss'; Alto Adige, Italy
Braised Mangalitza pork belly Bao Bun
Wine - Bibi Graetz 'Casamatta' Sangiovese; Tuscany, Italy
Cured salmon & cod marble, caviar beurre blanc
Wine - Litmus Orange, Bacchus; Surrey, England
Grilled Galatian octopus, forbidden rice, saffron aioli
Wine - Tsantali, Athiri-Assyrtiko 'Agioritiko Abaton'; Mount Athos, Greece
Chickpea panisse, grilled aubergine, courgette, apricot harissa (vg)
Wine - Cos, Frappato; Sicily, Italy
Porcini mushroom croquette, Taleggio cheese sauce (v)
Wine - Lamblin & Fils, Chablis; Burgundy, France
Seek
Crisped lamb sweetbreads, Malbec jus (gf)
Wine - Zuccardi Serie A, Malbec; Mendoza, Argentina
Westholme steak sandwich, mature Cheddar, bacon jam
Wine - The Prisoner, Cabernet Sauvignon; Napa Valley, USA raz 'Blackwell'; Barossa, Australia
Crab 'Causa', purple potato, avocado, quail's egg, roe, black olive (gf)
Wine - Charles Smith, Riesling 'Kung Fu Girl'; Washington State, USA
Lobster roll, pickles, trout roe
Wine - Truchard Vineyard, Chardonnay; Carneros, USA
Roasted vegetable taco, fresh cheese, Mole sauce (v)
Wine - Leftfield, Sauvignon Blanc 'Te Awa'; Nelson, New Zealand
Smoked quinoa & baby vegetable salad (vg)
Wine - Kleine Zalze, Chenin Blanc 'Family Reserve'; Stellenbosch, South Africa
Bread
Homemade Parker House rolls
Whipped & smoked butter, olive oil, red wine vinegar (v)
Divide + Conquer
With crackers, chutneys, olives and pickles
100% Bellota Iberico ham & loin, Coppa Stagionata, Mortadella with Pistachios, Saucisson Beaujolais
Berkswell, Isle of Wight Blue, Maida Vale, Winterdale Shaw Cheddar, Ragstone
Pud
Chocolate and clementine torte, clementine sorbet
Vanilla infused pineapple, gluten-free crumble, coconut veil (vg)
Rum Baba, Chantilly cream, compressed peaches (v)
Dulce de leche custard (v)
Sparkling
Taittinger, 'Brut Réserve'; Champagne NV
Taittinger, 'Prestige Rosé'; Champagne NV
Taittinger, 'Nocturne Sec'; Champagne NV
Taittinger, Comtes de Champagne, Blanc de Blancs V
Bérèche & Fils, Réserve; Champagne NV
Dom Pérignon; Champagne V
Emile Beyer, Crémant d'Alsace, 'Cuvée Emile-Victor'; Alsace NV
1710, Franciacorta Brut Nature DOCG; Lombardy NV
Bottega, 'Poeti', Valdobbiadene Prosecco Superiore DOCG; Veneto NV
Ferrari, 'Maximum', Blanc de Blancs; Trentino NV
White
M. Chapoutier, Vermentino, 'Marius'; Pays d'Oc
Couly-Dutheil, Chinon, 'Le Chenin'; Loire
Jean-Luc Colombo, 'Le Redonne'; Côtes du Rhône
Lamblin & Fils, Chablis; Burgundy
Remoissenet Père & Fils, Givry; Burgundy
Emile Beyer, Gewürztraminer 'Eguisheim'; Alsace
Domaine Frantz Saumon, Mineral +; Montlouis-sur-Loire
Domaine de Lorient, Saute-Mouton; Saint-Péray; Northern Rhone
Château Olivier, Pessac-Léognan Grand Cru Classé Blanc; Bordeaux
Edouard Delauny, Saint-Romain; Burgundy
Philippe Colin, Chassagne-Montrachet 1er Cru 'Les Vergers'; Burgundy
Domaine Alain Chavy, Les Folatières, Puligny-Montrachet 1er Cru; Burgundy
Ciu Ciu, Oris; Falerio; Marche
Tenuta del Porconero, Falanghina; Campania
Bibi Graetz, 'Scopeto'; Tuscany
Paco & Lola, Albariño; Rias Baixas
Dr Loosen, Riesling Kabinett 'Erdener Treppchen'; Mosel
Weingut Winter, Riesling 'Kloppberg'; Rheinhessen
Soellner Wogenrain, Grüner Veltliner; Wagram
Tsantali, Assyrtiko 'Klima Klima'; Macedonia
Tim Adams, Semillon 'Fairfield Block'; Clar Ve alley
Stonier Wines, Chardonnay; Morningt Pon eninsula
Leeuwin Estate, Sauvignon Blanc 'Art Series'; Margaret River
Vavasour, Pinot Gris; Awater Ve alley
Leftfield, Sauvignon Blanc; Nelson
Truchard Vineyards, Chardonnay; Carneros
The Prisoner, Chardonnay; Napa Valley
Kleine Zalze, Chenin Blanc 'Family Reserve'; Stellenbosch
Zuccardi, Torrontès 'Serie A'; Salta
Atamisque, Viognier 'Serbal'; Mendoza
Luis Felipe Edwards, Sauvignon Blanc 'Gran Res-erva'; Leyda Valley
Red
Domaine Marcel Lapierre, Morgon; Beaujolais
Domaine Lafouge, Auxey-Duresses 'Les Boutonniers'; Burgundy
Ogier, 'Les Chorégies du Clos de L'Oratoire des Papes'; CNDP Rhône
Remoissenet Père & Fils, Nuits-Saint-Georges 1er Cru 'Les Damodes'; Burgundy
Château Talbot, Saint-Julien; Bordeaux
Moulin de Gassac, Classic Rouge; Languedoc
Couly-Dutheil, Saint Nicolas de Bourgueil, 'Les Aisselières Loir'; e
Château Cissac, Haut-Médoc; Bordeaux
Bouchard Aîné & Fils, Côte de Beaune-Villages; Burgundy
Laurant Habrard, Crozes-Hermitage Rouge; Northern Rhone
Moulin D'Issan, Bordeaux Supérieur; Margaux
M. Chapoutier, Gigondas; Rhône
Henri Gouge, Bourgogne Pinot Noir; Burgundy
Gaja, Ca'Marcanda 'Magari'; Tuscany
Olek Bondonio, Roncagliette; Barbaresco, Piedmont
Ciu Ciu, Oris, Bacchus; Marche
La Fiorita, Brunello di Montalcino; Tuscany
Bibi Graetz, 'Casamatta'; Tuscany
Domini Villa Lanata,' Cru Ravera Lo Zoccolaio'; Barolo Piemonte
Bolla, Amarone della Valpolicella Classico Riserva DOCG; Veneto
Nin Ortiz, Planètes de Nin Tinto; Priorat
Torres, Cabernet Sauvignon, 'Mas La Plana'; Penedès
Bodegas Arraez, 'Vivir Sin Dormir'; Jumilla
Bodegas Arraez, 'Malavida'; Jumilla
Goldenits, Blaufränkisch; Burgenland
Goldenits, Blaufränkisch; Burgenland
Drifting Wines, Old Vine Zinfandel; Lodi
Varner Wines, Cabernet Sauvignon 'Foxglove'; P Raso obles
Maxville, Cabernet Sauvignon; Napa Valley
The Prisoner, Red Blend; Napa Valley
Maxville, Cabernet Franc; Napa Valley
Maxville, Petite Sirah; Napa Valley
Résonance Vineyard, Pinot Noir; Oregon
The Prisoner, Cabernet Sauvignon; Napa Valley
Failla Wines, Pinot Noir 'Hirsch Vineyard'; Sonoma Coast
JJ Hahn, Cabernet Sauvignon 'Homestead'; Barossa
St Hallett, Shiraz 'Blackwell'; Barossa
Ceres, Pinot Noir 'Composition'; Centr Otal ago
Shannon Mount Bullet, Merlot; Elgin
Mary Le Bow, Cabernet Sauvignon-Shiraz-Petit Ver Wdot; estern
Zuccardi, Cabernet Franc 'Q'; Mendoza
Primus, Carmenère; Colchagua Valley
Luis Felipe Edwards, Pinot Noir 'Marea'; Ley Vda alley
Rosé
Balfour, Nannette's Rose; Kent
Château La Gordonne, 'La Chapelle Gordonne'; Côtes de Provence Rosé
Sparkling
Davenport, Limney Estate; V East Sussex, England
Balfour, 'Leslie's Reserve'; Kent
Farne L'a, Ombra; V Colli Euganei, Veneto
Catherine & Pierre Breton, Dilettante; Vouvray, Loire,
Ancre Hill Estate, Blanc de Noir; NV Monmouthshire
Benjamin Bridge, Brut Rose; NV Nova Scotia
White
Deboutbertin, Chenin Blanc 'Achillée; Loire
Beck-Hartweg, Riesling 'Frankstein Grand Cru'; Alsace
Les Dolomies, Chardonnay 'Les Combes'; Jura
Domaine des Orchis, Altesse 'Quintessence'; Savoie
Domaine Pabiot, 'Fleur des Vignes'; Pouilly Fumé, Loire
Agnes et Rene Mosse, Chenin Blanc; Loire
Domaine Pierre Frick, Riesling 'Bihl'; Alsace
Cave Mont Blanc, Valle d'Aosta Blanc de Morgex et de la Salle; Valle d'Aosta
Valfaccenda, Roero Arneis; Piemonte
Alois Lageder, Manzoni Bianco 'Forra'; Alto Adige
Elvio Cogno, Langhe Nascetta di Novello; Piedmont
Elio Ottin, Petite Arvine; V d'alle Aosta
Jacopo Stigliano, Buriana; Emilia-Romagna
Cantina Giardino, Fiano 'Gaia'; Campania
Alessandro Viola, Le Mie Origini; Sicily
I vigneri, Carricante 'Aurora'; Sicily
Zidarich, Vitovska; Friuli Venezia Giulia
Alfredo Maestro, Albillo 'Lovamor'; Valladolid
Weingut Maria and Sepp Muster, Opok, Steiermark
Vassaltis, Assyrtiko; Santorini
Balfour, 'Liberty's Bacchus'; Kent
Balfour, 'Skye's Chardonnay'; Kent
Chapel Down, 'Kit's Coty Estate Chardonnay'; Kent
Charles Smith, Riesling 'Kung Fu Girl'; Washington State
Manon, High Paradise; Adelaide Hills
Millton, Field Blend 'Libiamo'; Gisborne
Marko Fon, Malvazija; Kras
Puklavec Family Wines, Sauvignon Blanc & Furmint 'Ena Dva Tri'; Prodravje
Red
Claire & Florent Bejon, Cabernet Franc 'Pain Per-du Loir'; e
Domaine de la Bonne Tonne, Régnié - Agath' the blue Bes; aujolais
Domaine du Pech, 'Le Pech Abusé'; Bordeaux
Jérôme Lambert, Grolleau 'Le Zu Fruit'; Loire
Domaine des Côtes Rousses, Mondeuse; Savoie
Domaine Villet, Cuvée Tradition; Arbois Jur, a
Pierre Frick, Pinot Noir 'Strangenberg'; Alsace
Domaine U Stiliccionu, Sciaccarellu; Ajaccio Cor, sica
Les Dolomies, Trousseau 'Bordel C'est Bon'; Jura
Domaine Leon Barral, 'Jadis'; Faugeres
Nasciri, Calabrese Nero; Calabria
Valli Unite, Croatina 'Marmote Rosso'; Piedmont
La Stoppa, Trebbiolo; E Rmilia omagna
Barraco, Fior di Rosso; Marsala, Sicily
Arpepe, Rosso di Valtellina; Lombardia
Alois Lageder, Pinot Noir 'Krafuss'; Alt Ao dige
Foradori, Teroldego 'Granato'; Trentino
Adega Algueira, Merenzao 'Risco'; Ribeir Sacra a
Sepp Muster, Zweigelt 'Vom Opok'; Styria
Pheasant Tears, Quinta Red Blend; Sighaghi
Three Choirs Vineyard, 'Ravens Hill'; Gloucestershire
Ver Ralda, efosco; Istria
Pol Opuesto, Que Grande SOS; Mendoza
Le Vieux Pin, Syrah; Okanagan Valley
Chateau Changyu Moser XV, Cabernet Sauvignon, 'Family Second Vin'; Ningxia
Chateau Musar, 'Hochar Père et Fils'; Bekaa Valley
Orange
Domaine Lafage, Orange Wine, 'Taronja de Gris'; Languedoc, France
Skerlj, Vitovska; Friuli Venezia Giulia, Italy
Dario Princic,Pinot Grigio 'Sivi'; Friuli-Venezia Giulia, Italy
Litmus Orange, Bacchus; Surrey, England
Aphros, 'Phaunus Palhete'; Vinho Verde, Portugal
Testalonga, Bandito, Chenin Blanc 'Cortez'; Swartland, South Africa
Sweet
Château Doisy Daëne, Sauternes; Bordeaux, France
Ruffino, 'Vin Santo del Chianti Serelle'; Tuscany, Italy
Fortified
Gonzalez Byass, Fino 'Tio Pepe'; Jerez, Spain
Dow's, Late Bottled Vintage; Douro, Portuga
Signatures
City of London Rhubarb & Rose, strawberry purée, fresh lime, Balfour Sparkling Rosé
Laphroaig, Amaretto, IPA & rosemary reduction, fresh lemon
Avallen Calvados, Grand Marnier, homemade mix berries and cinnamon syrup, fresh lime, cold pressed pear juice
Woodford Reserve, corn-infused syrup, egg white, fresh lemon
Ilegal Joven Mezcal, Chartreuse, Fresh Lemon, Homemade Beetroot & Red Chilli Syrup
The Duppy Share Spiced, Cointreau, banana syrup, coconut cream, fresh orange, chocolate bitters
Classics
Woodford Reserve, Campari, Antica Formula Carpano
Sapling Vodka, Chambord, pineapple juice
Four Pillars Bloody Shiraz, Antica Formula Carpano, Belsazar dry, Luxardo Maraschino, Angostura Bitters
Del Maguey Vida Mezcal, cold pressed grapefruit, fresh lime, agave nectar, soda
The Duppy Share Spiced, Plantation Pineapple, Orange Curacao, Fresh Lime, Orgeat syrup
In Vino Valentine
In Vino Valentine at Hithe + Seek is the ultimate way to indulge this Valentine's Weekend. Commence with a 125ml glass of Taittinger Brut NV, followed by 8 small plates to share between two; three seafood, three meat and cheese & chocolate, coupled with a bottle of sommelier selected white and a red wine to share and finishing with a French Martini over dessert. A vegan menu is also available - please specify any dietary requirements at time of booking. Available from Friday 10th February to Wednesday 15th February, £110 per person
Seafood
Paired with our Sommelier selected 750ml bottle of white wine to share
Pink taglione, Langoustine, Girolles, Winter Truffle
Tuna carpaccio, salted lemon gem, avocado
Red Mullet pearl, spiced bisque heart
Meat
Paired with our Sommelier selected 750ml bottle of red wine to share
Wagyu Rye sandwich, Okonomiyaki sauce, white cabbage hair
Boneless chicken thighs, Adobo rice, capsicum purée
Cheese & Chocolate
Paired with The French Martini cocktail
Alsatian Raclette fondue, Sourdough croutons
Inspired by history, made for city-goers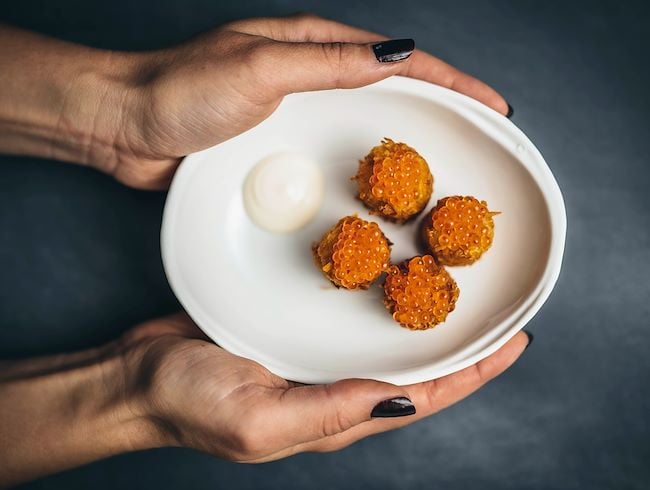 Behind Hithe + Seek
Our wine and food menus are carefully split into two sections - Hithe; featuring a selection of familiar favourites and Seek showcasing undiscovered gems hand-picked for diners looking to expand their palate.